Posted in
Australia
,
Multiculturalism
on June 3rd, 2009 by Jacob
3 June, 2009
Nearly every Australian knows who Sol Trujillo is, he is the former Managing Director of our 6th largest corporation, Telstra Corporation Limited (Telstra), Market capitalisation above $30 billions).
Mr. Trujillo is an American executive who was brought here by the previous government to run Telstra that was half way through its privatisation program, with a brief to maximize its share price and subsequently the government proceeds from completing its privatisation.
Approximately three and a half years and $31 millions into Mr. Trujillo bank account later, thing have gone sour. Apparently senõr Sol is not too happy with us Aussies. Listen to an interview he gave the BBC recently, apparently after he left Australia.
INTERVIEW WITH BBC
Now you have it, with the active participation of the BBC interviewer, he who has just voluntarily relinquished one the most powerful positions in the Australian commercial scene, he who in the past three and a half years earned $31,000,000 from that position, he who miserably fail to deliver took the easy way out and turned into A VICTIM. Ladies and gentlemen, get your Kleenex boxes out! This is how victim Sol Trujillo concluded his victimhood speech:
… the belief [in Australia] that only certain people are acceptable [for important positions] versus others that is a sad thing.
Hey, senõr no certain Sol, you got the job, didn't you?!
What is important to note IS NOT the actual accusation against Australia and Australians but the swift and the ease in which a millionaire, by any criteria you wish to apply, portray himself as a victim. A sort of "fiddler On The Roof" in reverse.
You see? Sol Trujillo has taken umbrage at the Australian media, because our cartoonists tend to draw Mr. Trujillo under large sombrero (with or without a poncho) like this: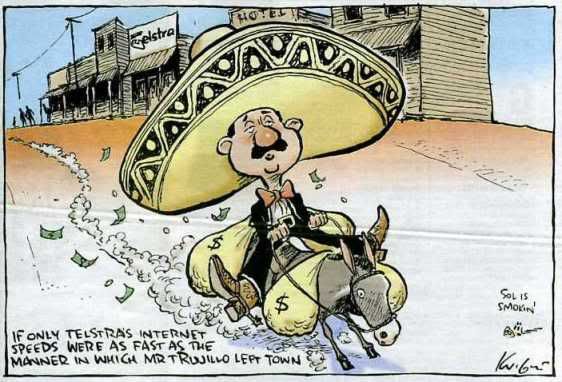 SOL LEAVES TOWN
This to him is racism but there here is a problem;
In Australia, whether your are Hispanic, Latino or simple Mexican, makes no difference to us, none whatsoever – our PC brigade is too busy with our own illegal immigrants, to include the good people of Latin America in the local victims list.
Perhaps it was what senõr Sol referring to when he described coming here as "stepping back in time", we are so backward here that we have not even appreciated our Latinos and elevated our entire Hispanic population, both of them, into victimhood.
We take the Mickey out of you senõr Sol because we take the Mickey out of everybody and if you are a tall poppy, we'll also cut you down to size and you certainly proved to be one.
And when you decided that you need to bring two of your mates to help you to run Telstra, you did not think that we would pass on such a jam as "the three Amigos". Instead of laughing with us you got mad, how dare the natives be so despicable as to have fun at the expense of the great man himself.
To add insult to injury, when our Prime Minister, who as you know, not on my "admired" list, when asked to comment about Sol's departure, he did it in a single word: "adios". Oh well, if my prime minister is racist, I can't help but being one too. I just wish that my prime minster will show his racist tendencies more often, particularly when it comes to who is allowed into this country and when, but I am digressing now.
Sol Trujillo claim that a few Aussies approached him to express their support, he is right, I wanted to do it too but senõr Sol, has already left. I wanted to spare him the agony of racial discrimination and volunteer to be drawn with a poncho and a sombrero. I even volunteer to grow a Zapata moustache all for a small fee of … say, $1 million? That would still live Sol Trujillo with $30 millions, I don't mind I am not greedy.
Go home Mr. Trujillo, may peace be upon you in the land of unlimited opportunities, perhaps your emphatic credentials be better recognised at home and you get a nomination for …. the Supreme Court?
Hasta luego hombre.
© Copyrights Jacob Klamer 2009, all rights resreved
Tags:
hispanics
,
latinos
,
mexicans
,
political correctness
,
racism
,
sol trujillo